Since past times, the men shirts has its rightful place in wardrobes. Shirt moves with the Ongoing trends and adapts itself to the changing contours of menswear. Shirts are the basic pieces that can be converted into pretty much any look.
From the smartest suit to the most laid back outfit shirt can be the best choice. The recent evolution of men shirts reflects the advancement in manufacturing techniques. The growing needs and demands of a today's fashion driven market is taking shirts to another level. The outfit that was started just as a functional item has now been completely transformed into a style defining garment.
Wardrobe collection:
When it comes to building a shirt collection, it's best to have a few different styles in your wardrobe. You should make sure that you've one for every occasion. Yes, there are thousand of men shirts available in the market. You don' need to buy them all. There are certain staple items that needs to be included. So this doesn't mean you have to open your make your wardrobe drowned with shirts.
Complete men's shirt guide:
Realistically you can have some different styles to mix and match. This will give you enough options to try new things. But this doesn't mean that you get overwhelmed by it. In this article I we'll briefly discuss about the versatile shirts. And most importantly I will be giving some tips and tricks so that you can pull them off perfectly. Whether you're opting for a casual or the smart look this guide will surely help you out.
History:
Men shirts have had years to build up this versatile style after it was manufactured for the first time. The first shirt was developed in back 3000BC(First Dynasty). So even when the Egyptian Emperors were not in the picture anywhere, men shirts were still a main item of menswear.
FITTING:
Arguably fit is the most striking and important feature of a shirt. If your shirt is poorly fitted, your 100dollars of shirt is of no use. Even the finest details won't matter because the fitting will ruin the style. No matter what option and style you choose, the final fit will have a huge impact on the overall look.
The "perfect fit" contains many subjective elements which will raise your personality.
Slim Fit Men Shirt:
A slim fit men shirt is less comfortable and is bit constricts the movement. It looks more fashionable because it removes excess of fabric from shirt.
A slim fit shirt typically has tightened back with darts and a high armhole stance. This allows a shaped look that touches closer to the body.
By-the-way skin tight is bit different from it.
As the name implies, this shirt fit is made for slim people. Therefore don't  choose it if you have love handles or you have belly fat. This will completely destroy your image.
If you are in complete shape and young, then slim fit is what you need. Just wear it with all the heart and you are ready to rock.
Classic Fit Men Shirt:
The classic fit is likely what your grandfather used to wear in old days. It is tailored by traditional techniques which provides it a loose and fluffy shape. With plenty of fabric in the sleeves it gives a comfortable feel. It provides best moving ability to the body and features two vents on the back.
Back in the past days, a gentleman used to wear a jacket on this shirt. Often a vest was also wore upon it.
Therefore the comfort was the main reason for wearing this. This is the favourite choice for those who prefer classic style and favorers comfort over fashion.
Modern Fit Men Shirt:
The Modern Fit lies in between the classic and the slim fit. It provides the feeling of both the fits when talking about comfort and style.
It has slightly trimmer look than the classic fit and is bit more loose than the slim fit. This type of men shirt looks good even without a jacket or vest without sacrificing comfort.
The sleeves are wide but are not too open and the shoulder lining just sits on he neck.
This is the most preferred men shirt fit because most of us don't want to limit our movement.
I personally choose a slim fir most of the time as I don't have mature look. My body is still developing and with god's grace it's still in shape. By choosing slim fit I could wear it without a jacket.
If you are not very slim or even your fat is popping up slightly, this is best choice. You could wear it in many ways, which I will be covering up.
Men Shirt Front – Pocket
Most men shirts features plain front and additionally chest pockets. Modern shirts sometimes feature darts or decorative stitching, but that's not purely classic.
No Pocket (Formal):
Some prefer men shirt with pockets and others don't. According to the old study a shirt with a pocket is considered less formal. The reason was because the gentlemen in those days did not work. They used to wear jacket upfront and the pockets were never used.
1 Pocket (Informal):
During old days, those who were engaged in physical work used the pocket to keep tools while working.
Nowadays, filling your pocket with stuff and making it fluffy looks odd. Never-the-less it is stylistic wear. You can add 1 pocket to casual shirts if need pocket.
2 Pockets (Very Informal):
2 chest pockets on chest looks very casual and is usually reserved for very informal shirts such as safari, military or western shirts.
Men Shirt hemlining:
The hem-lining does play a role in styling your shirt. It can lean towards more classic or cool look.
Untucked (straight lining)
Straight hems needs to be included when you want to wear the shirt untucked. This gives you a casual look with sense of comfort.
The straight hems are not meant to be untucked as the shirt doesn't stay in a position. Whenever you tuck it in, the slight movement will make it come out.
So the body movement Is not restricted in straight hem.
Consider the length while purchasing straight hems. Too short give you a awkward look as the long men shirt does seem odd.
So do care about length because you are wearing it untucked.
Tucked In (curved)
A classic men shirt is worn tucked in. The back and front portion is longer as compared to the sides. This curved structure makes it necessary to tuck the shirt in.
Nowadays the manufactures makes sides so short that while tucking, it tends to pop out. They do so to save the fabric and make their profit.
This surely hinders the style of the shirt because on a slight movement the shirt spoils the sides.
The ratio of tail and sides should be considered as a major aspect while manufacturing it. Certainly some brands do keep this in mind.
I personally tuck the curved hem shirts from the front. The shirt tends to stick with the belt and the tail portion sets completely. This is what I haven't changed since I started wearing men shirts.
Color contrast within shirt:
As the fashion trends are changing men shirts have also advanced it's way through. The color pattern of various elements of shirts are in demand. Whether it is color contrast in cuff and lining, or the color of collar.
You don't really need to do fancy things, very  light color contrast is fine. Sometimes people tends to choose very colorful shirts and it looks weird. You haven't opted this color contrast to ruin your style.
Avoid using fancy contrast colors or patterns as it looks gaudy.
As I said, to get an elegant look, it's best to keep these contrasting details to a minimum.  You should rather focus on the details, the fabric and fitting that will do the good.
Contrasting elements work best when used with subtlety.
The single colored lining will have a impact on the overall look, especially when shirt is of light shade. The elements color plays a role when you want to make a special appearance during memorable moment.
Therefore, use colors wisely and sparingly. The slight color contrast can surely make you stand apart from the crowd. But overdoing it will make you over-dressed. Keep these things in mind and you are ready to go.
Now let's move on to the type of men shirts.
In this article we'll briefly discuss about the versatile shirts. I will be providing you daily tips and tricks to pull them off perfectly. These ways will surely help you out somehow. For both casual or smart look this guide will benefit you.
Let's get started.
Formal Men Shirt
The formal men shirt is the normal dressing shirt most people wear. These shirts are something that can easily be merged with suits and smart casual outfits.
This generally doesn't come in button-down collars. But you can choose from the variety of collars. The collars can be Windsor or straight or small. It also comes in detachable collar form.
What makes it different?
It's fitting and its overall finish is what makes it different and elegant. It's slightly slimmer than other men shirts and the finishing is well structured.
The front portion is bit short as compared to back. This ensures that while tucking it in your pants you don't have to deal with excess of fabric. Even while you make the movements the shirt remains tucked or there are negligible changes.
History:
The world's oldest preserved garment, discovered by Flinders Petrie, was a "highly sophisticated" linen shirt. It was from a First Dynasty Egyptian tomb at Tarkan, c. 3000 BC. The shoulders and sleeves have been finely pleated to give form-fitting trimness while allowing the wearer room to move.
Tips to wear it:
As mentioned, this is formal men shirt. So all the stuff related to it needs to be formal. Even the slight awkward style will ruin the whole look. So keep in mind that this outfit is sophisticated and provides pure gentlemen feeling.
Checked Men Shirt
It's a staple item in every men's wardrobe. Various color and varities can be included in your wardrobe considering these men shirts.
History:
This isn't a newly developed piece as it was manufactured in 16th century. The plaid/checked/flannel/lumberjack shirt all belongs to same class. Once it was actually banned during 1740's. It was assumed that it had some internal links with the Scottish Rebellion. So it has very interesting and rich history that certainly makes it special.
Tips to wear it:
These men shirts can easily be transitioned into both smart casual and cool looking outfits. You can easily transform the look by slight variations in color combos and depending on the materials used.
Opt for a thick fabric for the winter months and layer it up with T-shirts/jackets. Go for a thinner, loose fit design that's perfect for the summer.
Stand Collar Men Shirt
This men shirt collars isn't made from the typical fibrics. These are kept to be hard forever and therefore it is called stand collar.
There are only certain changes in the number of the buttons. The overall finish and style of the shirt has remained the same throughout.
The unconventional collar provides more eye-catching and clean look to your outfit. By dressing it in proper manner you can get refined and everyday finish.
History:
In the industrial era these men shirts were worn by the working people of the factories. But it's now been included in the latest fashion trends all around the globe.
Tips to wear it:
This gives a casual+cool look at the same time. It's how you wear it. The loafers with the dark denim jeans does give you a slight casual look. Whereas if you go for sneakers/joggers with jeans, you are opting for a street style.
Oxford Men Shirt
The Oxford men shirt needs no introduction as it is most widely weared outfit.
As the oxford shirt is a wardrobe staple it can easily be combined with other items. If you wish to have a collection of versatile shirts in your wardrobe, this is must. Include your favourite colors and wear it with perfect combinations.
History:
It's a traditional shirt that was first introduced to this world during 19th century in Scotland. It started off as something for the everyday use due to its comfortable fit and fine fabric It still persists as a essential item in men's wardrobe.
Tips to wear it:
You can wear this men shirt in a many ways. Just keep the things simple and stick to basics. Considering these things will give you smart/casual look.
Combine a simple light shirt with some cotton trousers or you can opt for joggers. I personally recommend you not to tuck-in the shirt. Wear light sneakers with it(white will be best).
Denim Men Shirt
Another classic outfit that is considered to be solid style statement.
The denim men shirt is not only meant for casual wear. The casual items wisely mixed together works fine nowadays. It's very easy to smarten yourself up with this men shirt.
History:
It has been around since the early 1800's. It was first introduces by Levi Strauss as it began producing rough and tough clothes for workers.
Brand later teamed up with best tailors and the world of Levi's started to expand. Since then denim has emerged strongly and is now a major player in the menswear game.
Tips to wear it:
Layer your denim over a simple white T-shirt, keeping the shirt unbuttoned to ensure nothing looks too rigid or restricted. Go for similar shades to create a unique and elegant look. You can simplify it with a slight similar combination with contrasting tones.
Denim shirts are gives cool look when you opt for a light stone washed design. It can be paired with a range of different pieces. For a everyday wear team a fitted denim shirt with a pair of chinos and finish it off with your choice of footwear.  You can consider wearing light colored loafers.
On That Note
The sky is the limit when you are purchasing best men shirts. There are many more options that I haven't covered in this article. I have considered the most widely and trending men shirts.
These standard shirt will surely help you to grow up with style. Whether you want street style shirts or office wear, this guide will surely work for you. You can adjust your outfit according to the mood and occasion.
From the colour or lining to the fabric or even minor details are mentioned just for you. The change in personality is a gradual process. The art of wearing clothes does take some time to build. So be patient and go with the basics.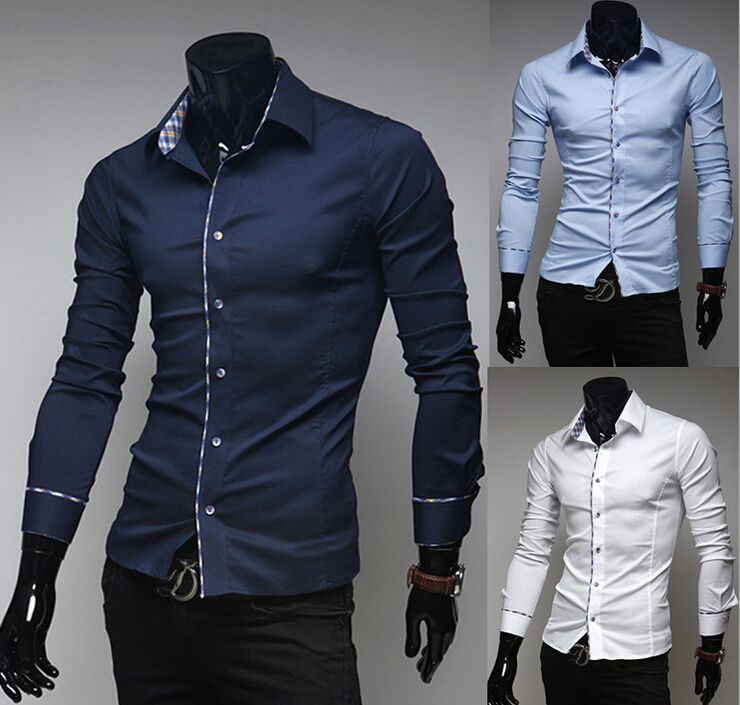 You really don't need to fill up your whole wardrobe with the useless shirt. Consider purchasing well fitted and trendy shirts. Just invest small amount of money and time, and you will find a perfect piece for you.
Consider this (important)
All the funky and colorful shirts would do nothing good unless your profession demands it. So mix up your wardrobe items with the above men shirts and you will master this art in no time.
You really don't need to spend thousand of dollars to make yourself look stunningly good. Just follow this guide and it will work wonders for you.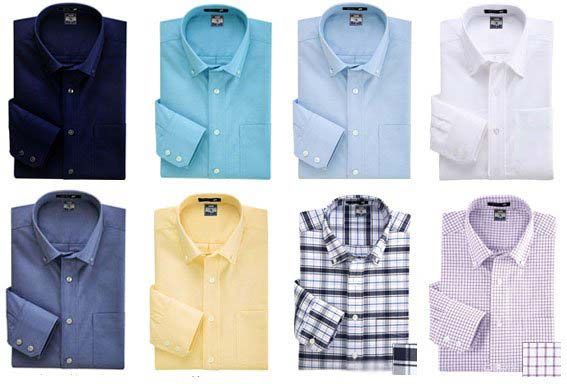 Regardless of the occasion these men shirts fits everywhere. Each one of these men shirts can be dressed up in multiple ways. You won't be restricted to just few styles.
Last but not the least, the money is kept in moderation. If you can afford it, then you can certainly hunt for the expensive one's.
Your Opinions
Just by including these tips and tricks in your daily lifestyle you can get awesome look. This guide is more than enough for achieving a flattering, classic and cool look for all the occasions
Please leave some valuable feedback. I will happy to listen from your side. Both positive and negative comments will motivate me to move further.